Hominy Valley German Shepherd Rescue
March 10, 2011
This is a photo of a man who goes by the name of Brett Cochran. He runs a so-called rescue named 'Needful Souls', and is now in Florida. Under the guise of being a rescue group, they pull animals (mostly pit bulls, though they will take any breed) from shelters and act as 'brokers,' selling them to research testing facilities, and any private party willing to pay (so odds are, they are heavily supporting dog fighting, since they like to deal in pit bulls).
We received the following in an e-mail from a shelter in Georgia that he attempted to pull several dogs from:
"They were in Georgia for a short while and unfortunately were able to pull some dogs out of a rural shelter, before trying to pull from me. He has been in and out of jail for fraud and is bad news! He preys wherever there is weakness and also has shown an extreme temper. These are the names affiliated: Brett Cochran, Art Cochran, Robin Cochran. Florida does not require Dept. of Ag. licenses for rescue groups. Please get this out to everyone you know, involved with Georgia, Florida, South Carolina, North Carolina and Tennessee shelters. He moves around within these areas."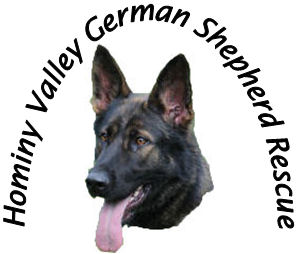 This is why Hominy Valley GSD Rescue has such strict adoption procedures (why we ask some of the things we ask on the application, and why we do home visits, etc.). It's not that we are trying to invade your privacy; we just want to be sure you are who you say you are and that our dogs are going to a loving forever home.
Related Posts via Categories